Product Guides & Information
UTCAG Above-ground Rollers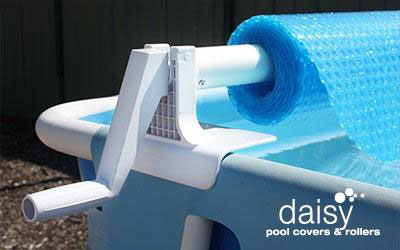 Don't forget! Daisy's new UTCAG range is now available for you to sell to your customers nationwide.
This above-ground roller will provide your customers with an entry level range to choose from this summer. Its innovative design is flexible to both the type of pool and size.
UTCAG 50: 50mm for pools up to 8.0m long x 4.0m wide. RRP: $252.00.

UTCAG 75: 75mm tube for pools up to 12m long x 6.0m wide. RRP: $338.00.
Its unique features sell itself! It simply sits on the above-ground pool deck and you're set to roll up the cover.
It features special anti-skid plugs so the roller will not move when used. For your customer, it's easy to use and to remove and store.
These rollers have been designed with a 75mm adaptor sleeve which easily converts the 50mm crank enabling it to hold a 75mm tube set. All too easy!
For more product info, please visit our website.