What is the life expectancy of a Daisy Solar Pool Cover?
Daisy's advanced UltraDomeTM bubble is the key to the outstanding efficiency and long life of our solar pool cover. Exclusive to Daisy, the UltraDomeTM technology completely eliminates weak points in the bubble which can eventually wear and break down. Daisy's advanced manufacturing techniques use super toughened polyethylene containing the maximum antioxidants, tougheners and UV inhibitors to resist salt, sun and chemical. Together, these factors mean a stronger cover that will last longer.
Daisy pool covers do have a finite lifespan and will eventually require replacement. Remember, your care of the cover will ultimately determine its life.
Typical life expectancies: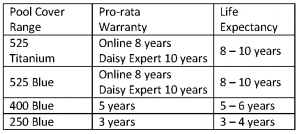 When you purchase a Daisy pool cover and roller system, you are effectively committing to an ongoing replacement cost, on top of the initial cover and roller system purchase. This cost will amount to between $80 and $120 per year depending how well you look after your pool cover.
This is around $2.00 per week, which is a small price to pay for the many considerable benefits of owning a Daisy solar pool cover. A solar pool cover lives in a very harsh environment. However, you can take actions to prolong the life of your Daisy solar pool blanket.