Product Guides & Information
Does the whole pool need to be covered?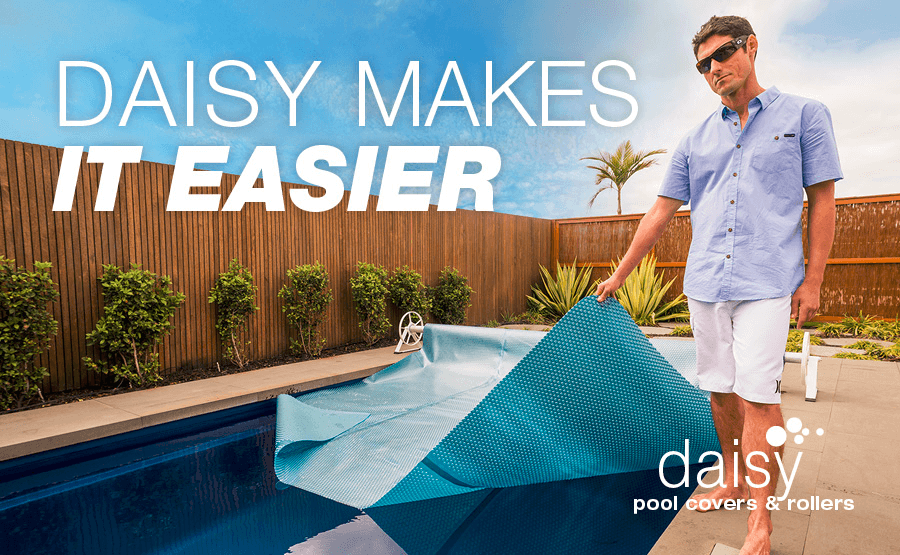 Daisy makes it easier
When there are obstructions or irregular shaped pools, a question we are often asked is: how will we make it work?
For the customer this question can be for a number of reasons, their pool may be:
Free form pools that have a very irregular shape

Large step areas (or sections) that protrude in an unusual way

Step areas (or sections) that are inaccessible

Posts or pots obstructing the use of a roller

Not enough room for a roller full width.
Daisy CAN help (it's even easier if you send a photo)! The aim of making a pool cover easier to use is so that the customer will actually use their pool cover.
If the pool cover is too hard to use then they will tend to leave it to one side and not worry about using it.
To make pool covers more user friendly, we may advise not to cover the whole pool area. It is ok to leave some parts uncovered for ease of use.
For some shapes we will advise to leave a section uncovered, the heat loss (lack of insulation) or lack of heating, and even the evaporation is a direct ratio of how much of the pool is covered to how much is uncovered.
The evaporation can only occur on the uncovered section, so if you have 95% of the pool covered they are stopping 95% of the evaporation. The trade-off for the small amount of evaporation far outweighs the customer actually being able to use the pool cover.
Sometimes the shape of the pool will equal the usage and the advice. Send a photo to Daisy for assistance and expert advice if your customer is ok for you to defer the advice to your supplier for special or unusual installations. Email us at [email protected]